This is the geographical locations of the YFull kits of the interesting branch Q-L804 with closest relatives among the American indians. Some how the Q-L804 branch seems to have made it to northern Europe at some point, likely through Siberia.
Non YFull kits gets a highly transparent dot in the predicted branch colour that can show the dencity of Q-L804.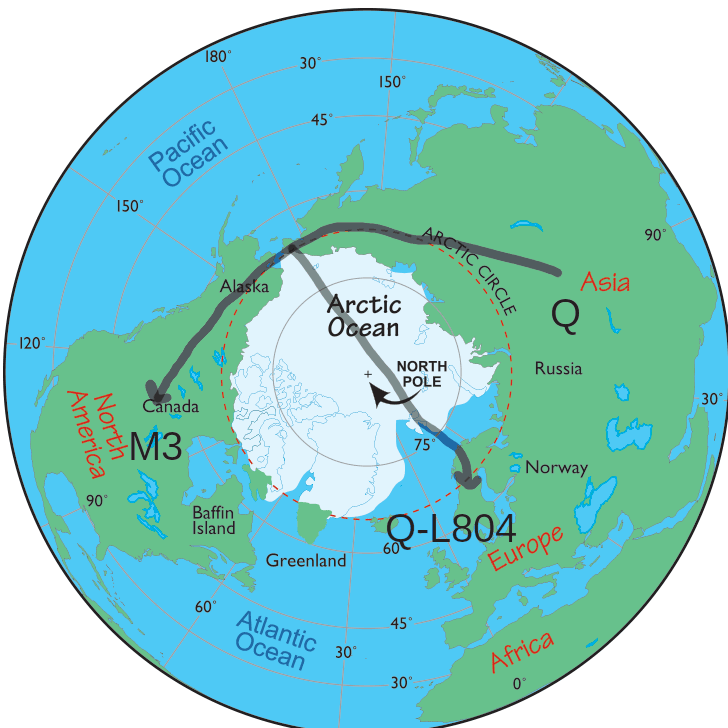 The Genographic Project (Geno) kits with Q-L804
Geno stoped collecting samples in August 2019 but have captured some Q-L804. They are listed below but not yet included in the maps. Most are in our traditional areas but one kit is from Slovakia (American tester) and we got two new northern kits in Hammerfest in northern Norway.
Table 1: GENO, Q-L804

| Y-hg | Paternal ancestor place of birth | Paternal ancestor ethnicity |
| --- | --- | --- |
| Q-CTS5867 | Ringerike, Norway | Scandinavian |
| Q-CTS5867 | Valdres, Norway | Norwegian |
| Q-L804 | Schleswig-Holstein, Germany | German |
| Q-L804 | Grundsunda and Nordmaling | Swedish |
| Q-L804 | Germany or Netherlands | German |
| Q-L804 | Umeå, Västerbotten County, Sweden | Swedish |
| Q-L804 | Germany | Germanic |
| Q-L804 | | swedish |
| Q-L804 | Vänersborg, Sweden | Swedish |
| Q-L804 | Kwidzyn, PL (Marienwerder), village Kameniec, PL | German |
| Q-L804 | Norway | Norwegian |
| Q-L804 | Lapland | Swedish |
| Q-L804 | Arkansas/Missouri | Unknown…English last name |
| Q-L804 | England | english |
| Q-L804 | London, UK | English |
| Q-L804 | North-west Norway | Norwegian |
| Q-L804 | Hants County, Nova Scotia | Scot-English |
| Q-L804 | Suffolk, England | English. (Bigelow.) |
| Q-L804 | Hyde England | English |
| Q-L804 | Trondheim, Sor-Trondelag, Norway | Norwegian |
| Q-L804 | West Fjords | Icelandic |
| Q-L804 | Kongsberg, Norway | Danish/Norwegian |
| Q-L804 | New York State | United States |
| Q-L804 | HAMMERFEST | NORWAY |
| Q-L804 | Oslo | Norwegian |
| Q-L804 | HAMMERFEST | NORWAY |
| Q-L804 | Ollaberry | Shetland Islander |
| Q-L804 | Hyllestad | Norwegian |
| Q-L804 | Moonta, South Australia, Australia | Australian |
| Q-L804 | South Iceland | Icelandic |
| Q-L804 | South Iceland | Icelandic |
| Q-L804 | Schenectady, New York | German |
| Q-L804 | Southwest Iceland | Icelandic |
| Q-L807 | | English- Welsh |
| Q-L807 | Vacez, Tatra Mountains | Slovak |
| Q-L807 | Wilmslow, Cheshire, England | English |